Biography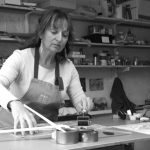 Anne Curran is a visual artist based in Co Wicklow, Ireland.  Anne was born in Dublin and through her school years studied art and was always creating sculptural pieces and designing fabrics. She has graduated from The National College of Art & Design where her studies led her to her interests in sculptural elements of painting.
Anne is currently painting with Encaustic medium and incorporates mapping as a metaphor in her works. Anne has been involved in a number of shows both solo and group where she has exhibited encaustic monotypes and large scale installations.
Of note is her solo work "Fractured Connections" at Signal Arts Centre,  Co Wicklow.  Her most recent installations have been exhibited in The National Botanical Gardens, Dublin and Gallery of Modern Art,  Co. Waterford.
Anne completed an Artists residency  in Cill Rialaig Retreat Project in 2018.
Anne's work is held in private and corporate collections across Ireland and Europe.
Presently she is part of a collaboration project with another artist along with Co Wicklow Heritage to showcase the artists' interpretation of our cultural past against the present.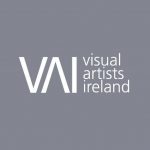 Anne is a member of Visual Artists Ireland, Signal Arts Centre Co Wicklow , and a member of Outpost Studio Artists Salon and Film meetings Glencree, Co Wicklow.
2019-2018
2019 GOMA Gallery of Modern Art Co Waterford
Encaustic Installation "Layered"
2018 Sculpture in Context 2018 National Botanical Gardens Dublin 3D Installation "Botanical Boundaries"
2018 Cill Rialaig Arts Centre Co Kerry "Art250 Exhibition "Rialaig" Encaustic Painting
2018 NCAD Graduate Show Dublin "Flux"
Series of Encaustic Paintings
2018 Wicklow Dementia Exhibition "City Series"
2018  SouthShore Gallery Dublin .Encaustic Collage Paintings
2017-2016
2017 The Complex Arts Centre Dublin "Carapace"Group Show
2017 NCAD Gallery Cead Exibition Dublin "Places of No Speaking" Series of Encaustic Paintings
2016 Signal Arts Centre  Wicklow Annual Open Exhibition. Encaustic Mixed Media "Burren"
2016 NCAD Grand Prize Award  2016 3D Installation
2016 Solo  Show "Fractured Connections" Signal Arts Centre Co Wicklow
2016 Solo Show South Pavillion Centre Greystones Co Wicklow "Land" Encaustic Monotypes
2015-2013
2015 Culture Night Wicklow with Farm Studio Artists, Display and Talks ion Works.
2015 NCAD Exhibition Drawings and Pastels
2014 La Touche Place Co Wicklow Exhibition of Paintings
2014 Halk Moon Gallery Co Wicklow, Paintings oil and mixed media
2013 Meridian Point Greystones Co Wicklow. Works on Slate and Mixed Media
2013 Brightlife Gallery Co Wicklow Two Person Show Oil Paintings and Mixed Media
AWARD
National College of Art & Design 2016 Grand Prize
COLLABORATIONS
An exploration of Wicklow and heritage with Erika Tyner a member of Farm Studios Delgany Co Wicklow.  
EDUCATION
2018     NCAD Visual Arts Practice Honours 
2018     Encaustic Workshop with Joanna Kidney
2018     NCAD Photgraphy In The City
2017     NCAD  Print Mixed Media Collage
2016     NCAD Sculptural And Drawing Processes
2016    Encaustic Masterclasses with Joanna Kidney
2015     Bronze Casting with Vivien Hansbury National College og Art & Design
2015      Life Drawing with Sahoko Blake
2014     Abstract Painting with Michael Gemmel
2014     NCAD National College of Art &   Design studying Drawing Approaches
2013-2008  Bray Adult Education Centre
St Thomas College Bray Co. Wicklow Painting/ Life Drawing